Baeside Matching Couples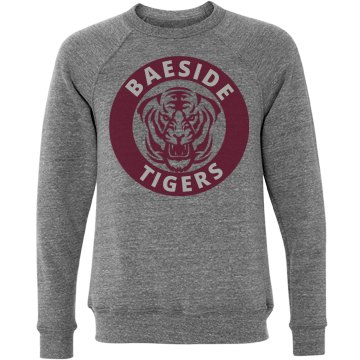 front
back
Size Chart
Product Details
Design Details
| | | | | | | |
| --- | --- | --- | --- | --- | --- | --- |
| | XS | S | M | L | XL | 2XL |
| Body Width: | 18.5 | 19.5 | 20.5 | 21.5 | 22.75 | 24 |
| Body Length: | 26.5 | 27.75 | 29 | 30 | 31 | 32 |
Our customers tell us this product:
runs small
fits perfect
runs large
Unisex Canvas Triblend Crewneck Sweatshirt
- $34.97
Relax into a Canvas Triblend with its unique fabric combination and extreme durability.
8.2 oz, 50/37.5/12.5 polyester/combed and ring-spun cotton/rayon triblend
Super soft 30 single material
Ribbed cuffs and waistband
Sizing Notes:
All measurements are provided by garment vendor; vendor tolerance for all measurements is +/-10%
All provided measurements are in inches
Body Width is measured 1" below the arm holes
What does 30 single mean anyway? A higher number means a finer thread resulting in a tighter weave and a softer, thinner shirt. A typical adult unisex t-shirt is 18 singles.
Category:
Love & Romance
>
Matching Couples
Hey girl, what school do you go to? Cuz I go to Baeside and I wish you would too. Oh yeah, well now you can both go to Baeside with these matching couple sweatshirts. The girl gets the wideneck triblend sweater and the boy gets the crewneck triblend sweater and everyone is happy. Like, everyone in the entire world, in fact.
Custom Text: BAESIDE | TIGERS