Alpha Stud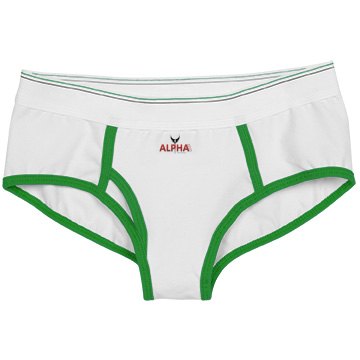 front
back
Size Chart
Product Details
Design Details
| | | |
| --- | --- | --- |
| | S | M |
| Waist Relaxed: | 12.875 | 13.375 |
| Front Rise: | 8.875 | 9.375 |
| Back Rise: | 7.375 | 7.875 |
Our customers tell us this product:
runs small
fits perfect
runs large
American Apparel Boy Brief Underwear
- $15.97
A sexy, feminine version of the classic men's brief. These personalized bottoms have an authentic fly, soft, flexible waistband and are perfect for lounging and sleepwear.
5.6 oz., Cotton/Spandex Jersey blend
1.25" Wide elastic waistband
Soft elastic trim
Authentic fly
Form-fitting
PLEASE NOTE: White ink is not available for this item. If our art or your upload contains the color white, it will not print and be reflected as the color of the item.
Sizing Notes:
PLEASE NOTE: American Apparel brand items run small. Please pay close attention to the product's measurements in inches before purchasing.
All measurements are provided by garment vendor; vendor tolerance for all measurements is +/-10%
All provided measurements are in inches