We all know that prom is a huge deal for High School. Each and every year the bar is set extra high when popping the question.  Here are some cute and creative ideas to ask that special someone to Prom.
Sweet Tooth
This idea is perfect for guy or girl because who seriously can reject a sweet treat? Cake, cupcakes, and cookies… you name it. Bake it yourself or even better, take that special someone out to dinner and have them spell it out for you on a desert. Super cute and memorable.
Go Cute
You can't fail with a custom prom bear personalized with his or her name.
Chalk It Up
If you got the creative design skills to pull off these masterpieces then more power to ya!
Balloons, Balloons, and More Ballooons
Fill up their room, car, or locker and pair it with a cute sign to make it extra special. You might need a little help from the parental units for a couple of these ideas but it makes it that much more unexpected!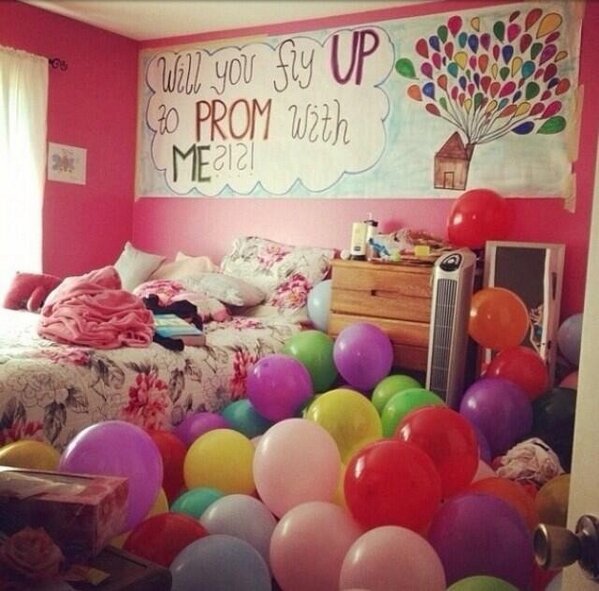 Post It Notes
Get some colorful post it notes and deck out their car, locker, or anything you can think of! Just be considerate in helping remove them, of course, after lots and lots of pictures.
Make Her Prom Queen
Every girl would love to be named Queen at their Prom so why not make your girl Prom Queen with a custom sash. Make it even more special by adding your names. Trust me, she'll keep this one for a long time.
Get The Pets Involved
If your girl or guy is a huge pet lover then this idea is perfect for you! Create a custom dog shirt or a custom dog bandana with a personalized message.
Billboards and Signs
If you are lucky enough to know someone who owns a business then ask them if you can use their sign for a day to ask your sweetheart to prom. If not, yard signs are always a big hit. Put them somewhere where he or she is guaranteed to see them. Like down their neighborhood street!
T-Shirts
Create a custom t-shirt that can be cute or funny!
Regardless, you know your girl or guy best so make it extra cute and special for them.
We've heard of all kinds of crazy and creative ideas such as flash mobs, youtube videos, and custom puzzles but we want to hear from you. Tell us about the best promposals you've ever heard of!